Since 1999 Ryago Catering has been active in offering the region of Basel selected culinary ideas and concepts. By choosing to work with us, we guarantee and take responsibility for your success. We focus on the people that we put in the center of our attention. From catering private clinics to day care centers, we develop concepts that fit our clients and we work 365 days a year. Quality and professionalism are our first priority.
Get in touch with us.
We are happy to advise you.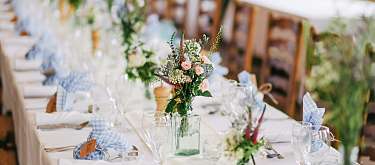 Ryago Catering in Basel
Ryago Catering was founded in 1999 by Basel's public figure, Philipp Fink, and caters institutions on 365 days a year with client-specific meals. We are specialized in dealing with complex assignments and meeting client requirements. In order to do so, we are able to take advantage of our broad network and know-how. Ryago itself runs four restaurants. In the spring of 2018 Ryago became part of the "Wyniger Group". Founder and owner of the Wyniger Group is Raphael Wyniger, who since taking over the Teufelhof in 2009 has continuously developed his companies. With the name "Wyniger Group" we combine concepts and companies who share a philosophy in the sense of a vision, to deliver a truly authentic, unfiltered and therefore honest guest and client experience. By doing this, we consistently strive to achieve the highest possible quality and we work professionally in every aspect.

The Wyniger Group employs approximately 230 employees. Ryago Catering is based on Burgfelderstrasse 188 in 4058 Basel.

Wir beraten Sie gerne.
We are part of the Wyniger Group establishments . Our wide gastronomy and hospitality offer inspires us for all kinds of events. We stage and organize. You celebrate!